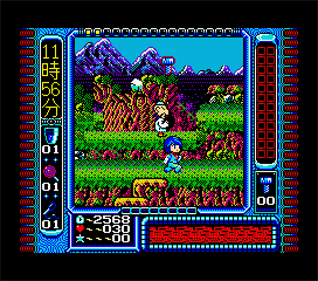 It never gets old to say "Django did it AGAIN!" 😃
Yeah, another great translation by Django. Now it is the game SA-ZI-RI, a Role-Playing game, developed by Telenet and published in Japan by Nippon in 1988. This RPG, also released for NEC PC-88, Sharp X1, and NEC PC-98 systems, was known for its colorful graphics, screen 5 scrolling, funky PSG music, the day-and-night system, and its hard level game play.
Unfortunately, as most Japanese games, this is another example of a great entertainment product that is kept away from the International MSX Community due to the Japanese bubble mindset that everyone in the world should speak Japanese. The game, as many many others, was never release in other idiom other than… well… Japanese!
Finally, after more than three decades, and thanks to the efforts of the great Django, this game is now available for the enjoyment of the non-Japanese speaking people.
The translation patch can be freely downloaded from Django's page at https://msx-django.monsite-orange.fr.